Push4 Director Pablo Janczur launches Designs for Life
Rhondda Cynon Taff Cultural Services Arts Development Team today launched Designs for Life, a Creative and Cultural Industries (CCI) programme that they will be delivered Rhondda Cynon Taff throughout 2010/11.
Designs for Life is a series of events aimed at further raising awareness of the sector to the over 16 age group in the borough. Events will include:
· Seminars for those wanting to enter or progress within the creative industries
· Bespoke advice surgeries
· Networking opportunities for creative industry SME (small and medium sized) businesses in the area
Caroline O'Neill, RCT Arts Development Manager said: "Designs for Life will highlight the career opportunities available in the creative and cultural industries, with a programme that covers everything from fashion through to music and media, enabling local talent to achieve their dreams of working within this sector."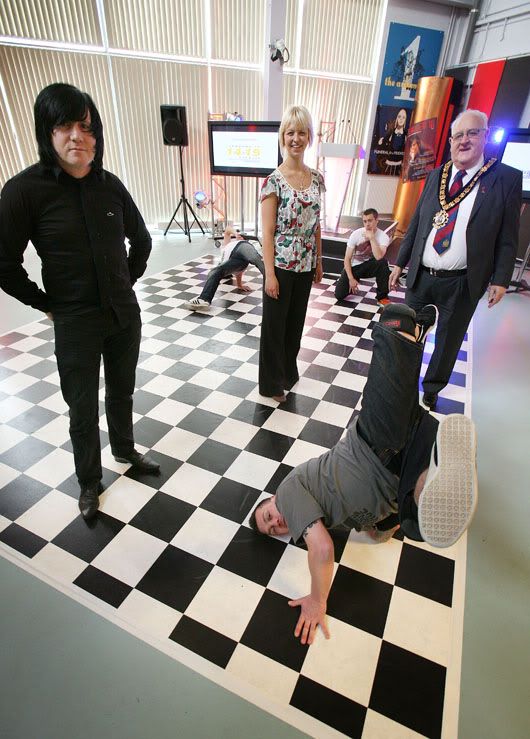 Mayor, Cllr. Simon Lloyd with Caroline O'Neill of RCT, Darren Smith of Funeral for a Friend, and members of breakdance crew Elemental Force
This latest project follows work over the past few years with the same team, through its SONIG Youth Music Industry and Youth Arts Programme, and delivering opportunities through the RCT 14-19 Pathways Learning Programme to raise awareness of the creative and cultural industries sector in the Valleys, delivering projects such as Make It Music Media and workshop opportunities at the successful Soundtrack International Film and Music Festival.
Launching Designs for Life, Push4 Director Pablo Janczur said: "This will build on the really good relationship we already enjoy with RCT and their Arts Development Team. I would have loved it as a youngster starting out in music if structured support like this had existed, and we're excited to be working with RCT to deliver it."
The programme is open to all those of 16 and over, and the first event will be Breaking Into The Music Industry at the Muni Arts Centre on July 17 in conjunction with the Welsh Music Foundation. More information about this event will be posted here soon.
Speaking at the launch, Cllr. Simon Lloyd, Mayor of Rhondda Cynon Taff said: "Designs for Life will be extremely important for lighting career paths for our young people. It will provide opportunities for many talented people in the Valleys."
A sample of that talent was on show at the launch, with the Elemental Force breakdance crew showcasing their skills.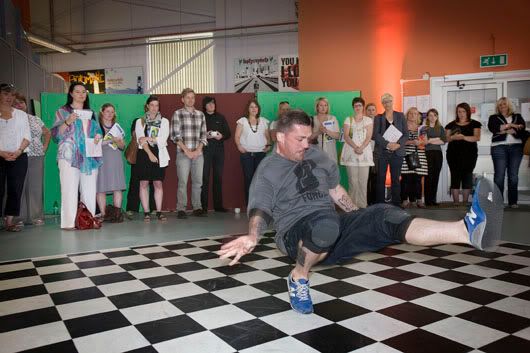 Slammo from Elemental Force performs at the launch.